Informational Meeting
Monday, June 1 [7:00 PM]
This meeting will be held remotely. Available options to watch or join the meeting:
The meeting will be live-streamed on Channel 17's YouTube channel.
Join Microsoft Teams Meeting. Depending on your browser, you may need to call in for audio (below).
Join via conference call (audio only): (802) 377-3784 | Conference ID: 518 760 121#
For the purpose of recording minutes, you will be asked to provide your first and last name.
When listening to the meeting, please keep your phone or computer on "mute" as to prevent interruptions during the meeting. For agenda items when it is appropriate for the public to speak, please unmute your phone or computer and introduce yourself before requesting the floor from the Moderator.
Annual Meeting
Tuesday, June 2
The legal voters of the Village of Essex Junction are hereby notified and warned to meet at the Essex Community Educational Center on Educational Drive in the Village of Essex Junction on Tuesday, June 2, 2020 to transact the following business by Australian ballot. Said voting by Australian ballot to begin at 10:00 AM and close at 7:00 PM.

ARTICLE 1. Shall the voters act upon the report of the auditor?
ARTICLE 2. Shall the voters approve an annual General Fund Budget in the amount of $5,367,655 for fiscal year July 1, 2020 to June 30, 2021, $3,670,039 of which is to be levied in taxes against the Village Grand List?
ARTICLE 3. Shall the voters approve holding the 2021 Annual Meeting on Wednesday, April 7, 2021 to act upon any articles not involving voting by Australian ballot and to reconvene on Tuesday, April 13, 2021 to vote for the Village officers and transact any business involving voting by Australian ballot?
ARTICLE 4. To transact any other business that may lawfully come before the meeting?
ARTICLE 5. To elect Village officers required by law including: Moderator (one year term); three
Village Trustees (2 three year terms, 1 one year term); one Library Trustee (five year term)?
Dated this 28th day of April, 2020
Australian Ballot - Polling place and hours:
Essex High School, 2 Educational Drive, Tuesday, June 2, 2020, 10 AM to 7 PM.
Voter Registration: Residents may register online at https://mvp.sec.state.vt.us/, or at the polling place for same registration. All that is required for voter registration is your VT driver's license number, or if you do not have a VT driver's license, the last four digits of your social security number. For questions concerning voter registration, call the town clerk's office at 879-0413.
Early/Absentee Ballots Requests and Deadline: ALL VOTERS ARE ENCOURAGED TO VERIFY THEIR MAILING ADDRESS BY GOING TO https://mvp.vermont.gov/ or email clerk@ essex.org. Ballots will be mailed to all "active" voters. If you do not receive a ballot by May 19th call 879-0413 or email clerk@ essex.org. Because the town office is closed to the public there will be no in-office early voting. Ballots must be returned by the close of polls (7:00 p.m. June 2nd) in order to be counted.
Ballots returned by May 29th will be processed on June 1st at the Town Clerk's office in accordance with 17 VSA, Chapter 51, §2546(a).
Voting instructions at the polls: Enter polls to check-in table, state name and street address, receive ballot, proceed and enter voting booth, mark your ballot in the voting booth (if you tear, deface of wrongly mark your ballot, return it to the election worker to receive another ballot), proceed to the ballot tabulator, cast ballot, exit polling area.
Problems at the Polls: Anyone needing assistance with voting or help with a problem at the polls should seek the assistance of the Presiding Officer.
Campaigning During Polling Hours: No candidate or other person may physically interfere with the progress of a voter to and from the polling place. No campaign advertisement may be displayed, placed, handed out or allowed to remain within the building containing a polling place. An election official or other person may not campaign, solicit voter or distribute campaign materials in the building containing a polling place.
For questions concerning this election, call Susan McNamara-Hill, Clerk, Village of Essex Junction at 879-0413 or visit the Clerk's page.
Village and School District Agree to Mail Out Ballots Prior to June 2 Votes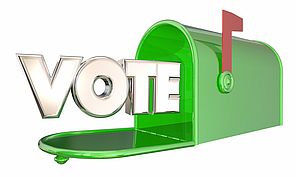 Due to the rescheduled annual meetings of the Village of Essex Junction and Essex Westford School District, we bring to your attention the following information:
Due to an emergency amendment to the election laws, the boards (Trustees and School Directors) are permitted to warn all annual meeting items to be voted on by ballot.
All voters are encouraged to vote by mail by requesting an early/absentee ballot now. Here's how ballots can be requested now:

Call 857-0069 and leave your name, phone number, address, mailing address (if different), and which election(s) you are requesting the ballots for (i.e., all local elections, August primary, November general); or
Email clerk@essex.org with the information requested in (a) above; or
Request online through my voter page at https://mvp.vermont.gov/

The Clerk's Office will mail you your requested ballot(s) as soon as they are ready for the upcoming elections.
Important: You will not receive ballots automatically, you must request them. Requests must be renewed each calendar year. You can request now for all elections through December 31, 2020.