Main content
Bike/Walk Advisory Committee
The purpose of the Bike/Walk Advisory Committee is to advance Essex Junction as a friendly neighborhood community where bicycling and walking are encouraged, and where sidewalks, bike paths, multi-use paths, and other facilities are provided and maintained in order to enhance the year-round safety, accessibility, convenience, enjoyment, and health of all citizens.
The Bike/Walk Advisory Committee consists of seven members appointed by the City Council. The committee meets approximately every third Monday of every month at 7 PM.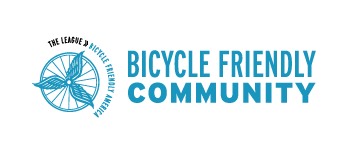 Essex Junction Named as Bike Friendly Community
The City of Essex Junction has renewed our status as a League of American Bicyclists recognized Bronze Bicycle Friendly Community (BFC)!
Essex Junction joins 475 communities across the United States that are transforming America one Bicycle Friendly Community at a time. "We applaud these communities for making bicycling a safe, comfortable, and convenient option for transportation and recreation," said Bill Nesper, Executive Director at the League of American Bicyclists. "We are inspired by these leaders who see bicycling as a way to build more vibrant, healthy, sustainable and connected communities and be a part of the solution to many complex challenges faced at both the community and national levels."
With this latest round of new and renewing awardees, there are currently 475 BFCs in all 50 states and the District of Columbia. The Bronze BFC award recognizes Essex Junction's commitment to improving conditions for bicycling through investment in bicycling promotion, educational programs, infrastructure and pro-bicycling policies.
"Essex Junction is proud to be a bikeable community. We pride ourselves on providing amenities to make our community both accessible for and attractive to cyclists of all abilities. The City's Bike/Walk Advisory Committee has been the main driver in continually ensuring that bicycle friendliness is considered in planning and public works projects, and we thank them for their efforts in improving our community," Andrew Brown, President of the Essex Junction Board of Trustees.
Learn more about the League's Bicycle Friendly Community program at bikeleague.org/community.
Micah Hagan, Chair
Eric Bowker
Evan Lawrence
Aaron Todd
Stefan Fetterhoff
Chris Kline
Mark Brislin, Staff Representative – 802-878-1375, mbrislin@. ejrp.org
Access upcoming meeting documents by clicking on the meeting.
Would you like to receive an email when new agendas or minutes are posted?