FCFM Update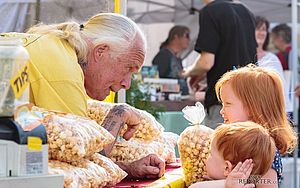 See you at the market - Wednesdays 4-7:30 PM
It's another fun and different week at the Five Corners Farmers' Market. There are countless reasons to attend if you haven't come yet: farm-fresh produce, eggs, meat, and prepared foods featuring farm-fresh ingredients. Fresh milk, yogurt, cheese, breads, and more. Different crafts weekly. Kids Power of Produce activity station (with $2 reward). Plus, vendors at the market will accept EBT, Crop Cash and Farm to Family Coupons.
This week, our municipal Manager will be on site for friendly conversation and our Kids POP activity will be a vegetable wheel game. Music will be by "Anne on a Moose" - a folk trio.
A few different vendors are coming this week -- make sure you check out the following guest and/or new vendors:
- Barred Woods Maple (from Underhill)
- Drunken Grains Bakery (from Essex) - breads and sweets made from grains spent from the brewing process
- Turtle Drums - handmade drums from local artists Dan Maxon
- A Revolutionary Press - Energized by the primary? Buy some cards and posters to keep the fires burning. Chat it up with John Vincent
The ever-popular Palmer Lane Maple Cremee truck will be on site, as well.

Don't forget our regular vendors who make our market what it is every week of the season.
Growers:
-Humble Rain Farm - produce, beef and pork
-Snowberry Farm - produce, eggs
-Hillside Creamery - yogurt, milk, ricotta cheese, cheese spreads
-Nuthin But Curd - cheese curds & cheese spreads
-Sabey Dog Flowers - beautiful, inexpensive flower bouquets
-Shaman's Touch Apiary - honey, honey sticks & beeswax candles
Food & Beverage:
-KIS Kombucha - craft root beer and kombucha
-Green Acres Homestead - kimchi, kombucha and eggs
-Green Mountain Kettle Corn
-St. Johnsbury Distillery - craft rums
-A Sustainable Kitchen - vegetarian dinner options
-ImSabai Thai - Thai dinner options
-Goog's Pizza - wood fired pizza dinner options
-Palmer Lane Maple - cremees
-Adventures in Granola - nonprofit selling granola
Craft:
-Turtle Drums - drums
-A Revolutionary Press - progressive cards
-Soul Remedy Art - jewelry