EJRP Featured in Parks & Recreation Magazine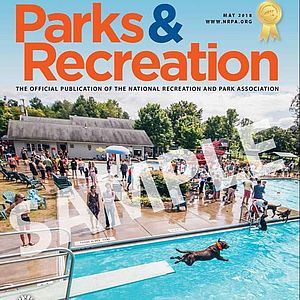 The Village of Essex Junction is pleased to announce that a photo submitted by Essex Junction Recreation & Parks (EJRP) will be included on the front cover of the Parks & Recreation Magazine. This national magazine has a subscriber list of over 153,000 and will give EJRP a chance to showcase their activities to the parks & recreation community across the country.
The photo submitted was taken at the annual "Dog Days of Summer" event in 2017. Each year, for one special day, EJRP opens up Maple Street park and pool to dogs. All proceeds from this event help to maintain and enhance the Essex Dog Park.
EJRP would not have been able to win this contest without tremendous community support. According to EJRP director Brad Luck, "We were up against some big departments and big communities. The photo that came in second came from a district with four times the number of likes on their page vs. ours. Typically the big fish wins in these type of contests because they have a larger pool of people to rally. I think our community responded really well to advocating for this photo to win. Beyond it being an amazing photo, it spoke to how engaged and invested our community is in parks and recreation. For that, we are thankful."
Photo credit: Shawn Cimonetti.