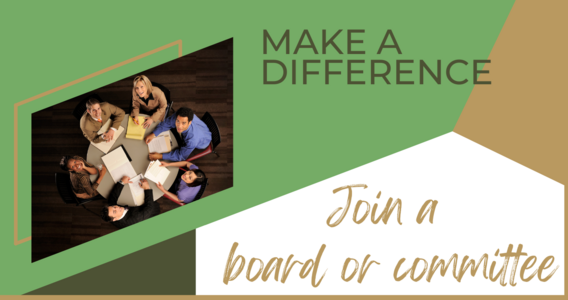 Volunteer on a Board or Committee
Boards and committees fulfill an important role in local government by evaluating issues which affect the community and making recommendations to the Village Board of Trustees for action. The value of these bodies is a direct reflection of the interest and dedication of our citizens in making Essex Junction a better place to live, work and play. Do you have some time, a skill, or technical knowledge you would like to share to work toward solving complex issues and recommending policies that helps to to shape the kind of community in which you live? Interested residents are needed to serve vacancies for boards, committees, and commissions.
Current Opportunities
Vacant seats are available on the following committees:
The Village of Essex Junction is committed to providing stipends for everyone appointed or elected to a board, commission, or committee that meets with a routine schedule. Volunteers appointed to boards, committees or commissions may receive a $50 per meeting stipend for their time, childcare assistance, food, transportation, or other needs in order to attend meetings. You must be officially appointed or elected by the Village of Essex Junction to be eligible.
Please send a letter of interest that states your name, address, and why you are interested in joining the committee. Be sure to include any special skills, expertise, experience, or knowledge you have that will make you a valuable resource and committee member. Letters should be sent to the manager at admin@ essexjunction.org or by regular mail at 2 Lincoln Street, Essex Junction, VT 05452.
Please do not send a resume unless requested. Information provided in your letter of interest (with the exception of your personal contact information) could be made a part of a public packet. Interviews normally take place during an open meeting of the Board of Trustees.
VERMONT PUBLIC RECORDS LAW
Under Vermont's Public Records Act, 1 V.S.A. §§ 315-320, any person has the right to request inspection or copying of a public record from government agencies, including municipalities.
Documents in the possession of public officials for municipal business are classified as public records and are available to the public unless excluded under the Public Records Act.
Applicants are discouraged from submitting information considered proprietary unless it is deemed essential for proper evaluation of the application. However, if the application contains information that the applicant considers to be trade secrets or confidential, the pages containing that information should be identified.
Please note, some information in a public record may be redacted, narrowed, or denied in accordance with State law if it could reasonably be expected to constitute an unwarranted invasion of personal privacy.