Re-vote on the Merger Plan
April 13, 2021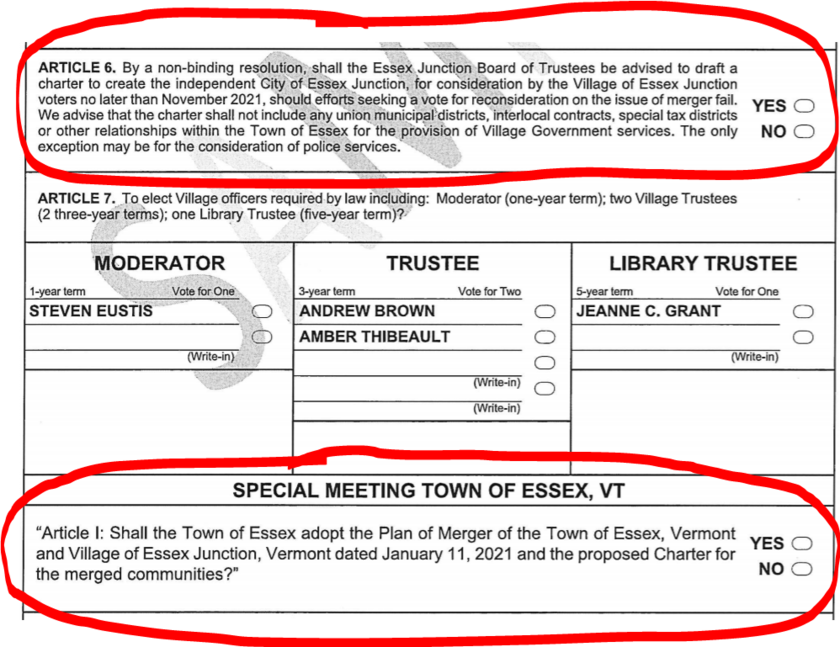 Village voters have two important Articles related to the future of the Village of Essex Junction Charter that can be found on the Village Annual Meeting/Town of Essex Special Meeting ballot on April 13th.
The first article is a Village of Essex Junction Annual Meeting non-binding advisory vote:
Article 6. By a non-binding resolution, shall the Essex Junction Board of Trustees be advised to draft a charter to create the independent City of Essex Junction, for consideration by the Village of Essex Junction voters no later than November 2021, should efforts seeking a vote for reconsideration on the issue of merger fail. We advise that the charter shall not include any union municipal districts, interlocal contracts, special tax districts or other relationships within the Town of Essex for the provision of Village Government services. The only exception may be for the consideration of police services.
A voter-backed petition was presented to the Village Trustees to place Article 6 on the ballot as a non-binding advisory vote to draft a new charter. This does not "bind" or make any legal charter change. A positive vote advises the Board of Trustees to begin work on a new draft charter for voters, if the vote to reconsider the Plan of Merger fails.
The second article is Town of Essex Special Meeting reconsideration vote:
Article I: Shall the Town of Essex adopt the Plan of Merger of the Town of Essex, Vermont and Village of Essex Junction, Vermont dated January 11, 2021 and the proposed Charter for the merged communities?
A voter-backed petition was presented to the Town Selectboard to reconsider the Article to approve the Plan of Merger. The Selectboard warned a special Town Meeting for April 13, 2021 to re-vote. This is combined on one ballot for Village voters to coincide with Village Annual Meeting and the EWSD vote.
All Village residents are citizens of two municipalities, the Village of Essex Junction and the Town of Essex. The Plan of Merger must be passed by both municipalities for adoption.
More information about the ballot and voting can be found on the Voter Information page.
To read more about the ballot vote for the Town of Essex, please visit www.essexvt.org/merger.
Board of Trustees & Contact Information
The Village Trustees welcome your questions. Please feel free to contact any Trustee at the email listed on this page.
| | |
| --- | --- |
| Andrew Brown, Village President | abrown@essexjunction.org |
| George Tyler, Vice President | gtyler@essexjunction.org |
| Daniel Kerin | dkerin@essexjunction.org |
| Raj Chawla | rchawla@essexjunction.org |
| Amber Thibeault | athibeault@essexjunction.org |