Planned Water Shut-Off: Monday May 7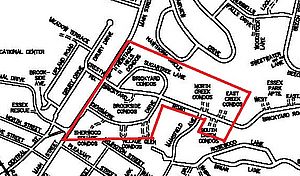 The Village of Essex Junction will be shutting off water service on Monday, May 7 for some customers due to water line repairs. It is estimated that water will be turned off from 9 PM on Monday, May 7 until the early morning hours on Tuesday, May 8. The primary properties affected will be the Brickyard Road condos, as well as properties on Densmore Drive and some of Main Street. Please review the attached map to get more information about the locations affected.
Once water service is restored, please run cold water if you notice any air bubbles. Water will be safe to drink as soon as service is restored.
During repairs, the intersection of Densmore Drive and Main Street will be closed. Detour signs will be present, and all properties on Densmore Drive will be fully accessible.
Please call the Village Offices at 878-6944 with any questions or concerns about this project.