Comprehensive Plan Updates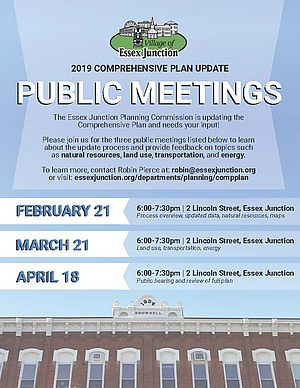 Attention Village residents: the Essex Junction Planning Commission (PC) needs your input! The PC is beginning the process of updating the Comprehensive Plan. This plan is updated every five years and outlines how the Village intends to develop. Policies in this plan will guide our community in making planning and development decisions.
The Village will be holding three public meetings at regularly scheduled Planning Commission meetings to gain public input. The first will be held on Thursday, February 21 from 6-7:30 PM. This meeting will discuss the process overview and data, as well as reviewing the natural resources and mapping sections.
Meetings will also be held on March 21 and April 18.