Cannabis in the Community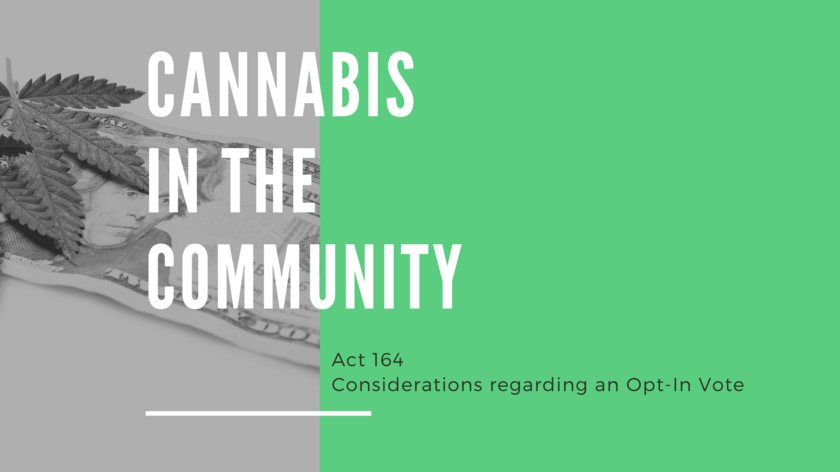 Act 164 (passed in 2020) provides a legal option for Vermont municipalities to permit retail cannabis sales by an opt-in. This requires that the municipality pass a majority vote by Australian ballot at a duly warned and noticed public meeting. This can occur at an annual meeting (e.g. Village or Town Meeting Day) or a special meeting. If the vote does not pass, no retail sales will be allowed. If the vote does pass and a cannabis retailer opens, a municipality can choose to later vote to rescind the vote, but any retailer that opened before the rescission will be allowed to continue operating.
The State Cannabis Control Board is developing rules that will provide clarity on the regulation of cannabis operations. The Village and/or Town can provide local licensing for retail cannabis establishments. This would be similar to the liquor licensing process done today, whereby the Town Selectboard acts as the Liquor Control Board. However, unlike local liquor licensing boards (which is silent with respect to villages), with local cannabis control boards, the law simply says that the local municipal legislative body may choose to create one (7 VSA section 863(b)), so villages can have their own local Cannabis Control Board. Therefore the Trustees and Selectboard can vote, either individually or together, on whether they want to have warned public vote to allow retail cannabis for each municipality. However, municipalities have no control over the issuance of anything other than retail licenses or the retail portions of integrated licenses (which occurs when other types of licenses, including cultivation, manufacturing, wholesale and retail, occur in one establishment).
Considerations Regarding an Opt-In Vote
The Town Selectboard and Village Board of Trustees will decide separately about whether to warn a public vote to allow retail cannabis in each municipality.
Considerations FOR a including a ballot question for Village / Town annual meeting 2022 include:
Allow business planning for future licensees to occur in advance of State rulemaking.
Existing land use regulations may provide sufficient regulatory capacity to ensure land use conflicts are limited.
Considerations AGAINST including a question/s on a Village or Town ballot in 2022:
State rule making has not yet occurred so specific regulations are unknown.
Existing land use regulations may need to be updated to support local concerns regarding regulations of cannabis retailers, as permitted by the State.
A local Cannabis Control Board may only review, issue, deny licenses for retail sales (or the retail portion of integrated licenses), and only in accordance with state rules (which have yet to be created). Given that a local Cannabis Control Board would have very little discretion over retail cannabis and no input for integrated licenses, if the municipality votes to allow retail cannabis, the Selectboard or Trustees must decide whether a local cannabis control board is warranted.
To join or follow the conversation, use the Agenda Center to view agendas and minutes for the Town Planning Commission and find Village Planning Commission meetings listed on their web page.
Regulation of Cannabis Operations through Zoning
Regardless of whether retail sale of cannabis is allowed, municipalities can control some aspects of how any cannabis establishment (retail or otherwise) operates through zoning and public nuisance laws. These may include mechanisms such as only allowing retail cannabis in certain zoning districts, imposing specific conditions to avoid or mitigate public impacts, establishing an overlay district to impose specific standards across multiple underlying zoning districts, or requiring that certain performance standards be met. One important consideration may be how close to schools retail cannabis establishments are located; the State Cannabis Control Board already may plan to impose some restrictions on this, as reported by VT Digger.
Zoning bylaws are drafted and reviewed through the Planning Commission of each municipality prior to final approval by the Selectboard or Trustees. Both the Town Planning Commission and Village Planning Commission will be discussing this issue in upcoming meetings, which the public is invited to attend. To join or follow the conversation, use the Agenda Center to view agendas and minutes for the Town Planning Commission and find Village Planning Commission meetings listed on their web page.
Public Outreach
The Town and Village wish to have robust community conversations about whether and how to allow retail cannabis in the community. More information about how to engage will be posted here as it is available, and may include platforms such as social media, Front Porch Forum, and live events (in-person and/or hybrid).
Inquiries
Please direct all inquiries to Robin Pierce (robin@ essexjunction.org), (802) 878-6950.