Cannabis in the Community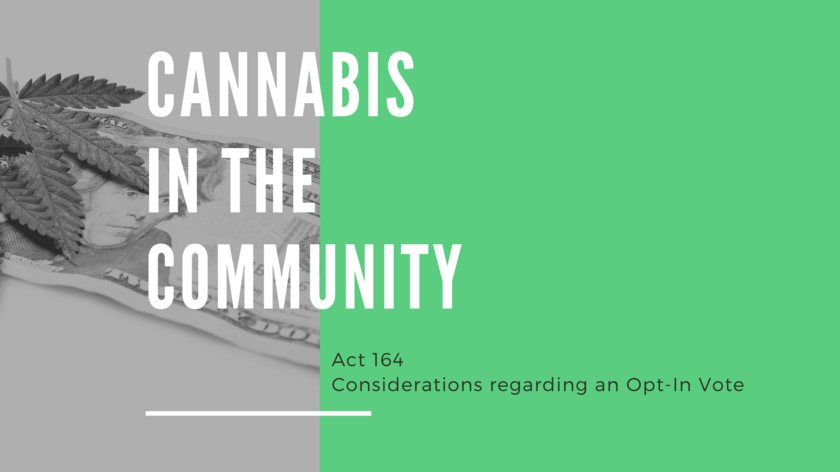 Background
Act 164 (passed in 2020) provides a legal option for Vermont municipalities to permit retail cannabis sales by an opt-in. This requires that the municipality pass a majority vote by Australian ballot at a duly warned and noticed public meeting. This can occur at an annual meeting (e.g. Village or Town Meeting Day) or a special meeting. If the vote does not pass, no retail sales will be allowed. If the vote does pass and a cannabis retailer opens, a municipality can choose to later vote to rescind the vote, but any retailer that opened before the rescission will be allowed to continue operating.
The State Cannabis Control Board has developed proposed rules that provide clarity on the regulation of cannabis operations, as well as guidance for municipalities on cannabis regulation.
The Village can provide local licensing for retail cannabis establishments. The local municipal legislative body may choose to create a local Cannabis Control Board (7 VSA section 863(b), so villages can have their own local Cannabis Control Board. Therefore the Trustees can vote on whether they want to have warned public vote to allow retail cannabis. However, municipalities have no control over the issuance of anything other than retail licenses or the retail portions of integrated licenses (which occurs when other types of licenses, including cultivation, manufacturing, wholesale and retail, occur in one establishment).
However, local cannabis control boards may only review, issue, deny licenses for retail sales (or the retail portion of integrated licenses), and only in accordance with state rules. Given that a local Cannabis Control Board would have very little discretion over retail cannabis and no input for integrated licenses, the Trustees must decide whether a local cannabis control board is warranted.
Opt-In Vote Updates
The Trustees have voted to put Retail Cannabis on the Ballot (via Australian ballot) for Village Meeting 2022 at which point Village voters will decide if they want retail cannabis in the Village. The ballot language is as follows: ARTICLE 4. Shall the Village of Essex Junction authorize cannabis retailers and retail portions of integrated licensee establishments in the Village pursuant to 7 V.S.A. § 863?
The Village has prepared a question and answers document regarding the upcoming vote.
Public Outreach
The Village wishs to have robust community conversations about whether and how to allow retail cannabis in the community. The first live community forum took place on Tuesday, December 7th from 4:30-5:30pm. A short presentation on the state and local context for retail cannabis legalization was followed by a question and answer session with Town and Village community development officials. View a recording of the first community forum and the presentation slide deck.
A second community forum took place on Wednesday, February 16th from 6:00pm-7:00pm. View a recording of the second community forum.
Inquiries
Please direct all inquiries to Robin Pierce (robin@ essexjunction.org), (802) 878-6950.
Regulation of Cannabis Operations through Zoning
If retail sale of cannabis is allowed, municipalities can control some aspects of how any cannabis establishment (retail or otherwise) operates through zoning and public nuisance laws. Regulations must treat cannabis establishments like any other business and cannot exceed the authority granted to municipal zoning under 24 V.S.A. Chapter 117.
Zoning bylaws are drafted and reviewed through the Planning Commission prior to final approval by the Trustees. The Village Planning Commission will be discussing this issue in upcoming meetings, which the public is invited to attend.
One important consideration is that under state law (18 V.S.A. §4327) and draft rules proposed by the State Cannabis Control Board, retail sales of any regulated drug (including cannabis) is prohibited within 500 feet of school property. Municipalities may choose to increase this distance through zoning bylaws.