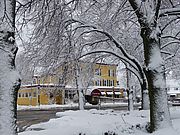 This plan addresses the wintertime Public Works operations for ice and snow control on Town and Village roads, walkways and municipal parking lots.
The Draft version of the Public Works 2019-2020 Winter Operations Plan is available for the public to view.
It will go before the Selectboard and the Trustees at their joint meeting on Tuesday, October 29th.
Read...