Creating an Independent City of Essex Junction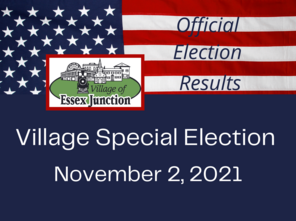 Updated 11/03/2021
Official Special Election Results
VILLAGE OF ESSEX JUNCTION
OFFICIAL RESULTS
SPECIAL VILLAGE ELECTION
NOVEMBER 2, 2021

Number of Voters on Checklist: 7742
Number of Voters checked in: 3491
Blank ballots: 1
Defective ballots: 9
Total votes cast: 3481
Shall the Village of Essex Junction adopt the proposed Charter for the City of Essex Junction, Vermont dated September 14, 2021
Yes: 3070
No: 411

Attested Copy of the Official Results - November 2, 2021 (pdf)
Background
The Village of Essex Junction voters passed an article during their 2021 Annual Meeting as a non-binding advisory vote to draft a new charter. This does not "bind" or make any legal charter change. The positive vote advises the Board of Trustees to begin work on a new draft charter for voters, since the vote to reconsider the Plan of Merger failed. Click here to view final vote results.
Trustee Work Sessions on Independence
The Village Board of Trustees held the first work session on Essex Junction Independence on April 27, 2021, and decided to dedicate approximately the first hour of each of their regularly scheduled meetings to have a work session to discuss this topic. A list of their regularly scheduled meetings can be found here.
Goal
To create an independent Essex Junction, ensuring that it: has a foundation that provides for economic and political stability, reflects the Village character, has opportunity for growth, and looks towards the future.
Operating Principals
This will be a Village led process that is future oriented. The Trustees and designees working on this initiative will steer clear of distractions and act with civility, transparency, and deliberateness. They will work to develop consensus and speak with a consistent voice. They will engage with, bring together, seek input from, and work to inform our community. The Trustees will work with the Town Selectboard and maintain a healthy relationship with their neighbors in the Town.
Scope of Work
The identified scope of work is to include the charter, organization and budget, work with the Town Selectboard, listen to Village residents, and educate and inform voters.
Board of Trustees & Contact Information
The Village Trustees welcome your questions and feedback. Please feel free to contact any Trustee at the email listed on this page.
| | |
| --- | --- |
| Andrew Brown, President | abrown@essexjunction.org |
| Raj Chawla, Vice President | rchawla@essexjunction.org |
| George Tyler | gtyler@ essexjunction.org |
| Daniel Kerin | dkerin@ essexjunction.org |
| Amber Thibeault | athibeault@essexjunction.org |