The Essex Area Senior Center proudly serves the 50+ population in the Essex community and beyond. Located at 2 Lincoln Street at the Five Corners, the Center offers many opportunities for wellness and socialization with day trips, penny bingo, bridge, mah jongg, book club, knitting/crocheting, Wii bowling, workshops, presentations, other activities and special events. Seated Yoga and Seated Tai Chi are offered through the Center at EJRP's Aspire Studio on Maple Street. Our Wednesday luncheons, with an amazing fifty-year history of support, continue to be popular from late August through May. Formerly held at Maple Street Park, they are now held at the Senior Center. Anyone 50 years of age or older are warmly welcomed and encouraged to join. Please see our monthly newsletter (Essex Senior News), access our website, or call 876-5087 for more information.
Due to the COVID-19 pandemic, Village municipal services may have changed. To view the most current updates, please visit the COVID-19 Information page for the Town and Village.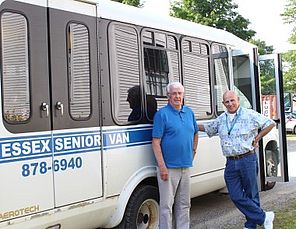 Did you know that Essex is the only community in the state of Vermont to offer free Senior Van transportation for residents? Any resident of the Town of Essex (including Essex Junction) over the age of 60 may use the senior van for in-town rides at no cost. Examples of how our seniors use the van: trips to the gym, doctor & hairdresser appointments, grocery shopping or visiting friends/family. There are even a few locations across the border into Williston and Colchester that transportation is provided for medical appointments.
The vans are equipped with a wheelchair lift and operate 9-4 Monday through Friday. If you would like to take advantage of this service, please call the friendly senior van volunteers at 878-6940 between 9am and Noon Monday - Friday, or the Senior Center at 876-5087, Monday-Friday 10-4 to request an application to ride.