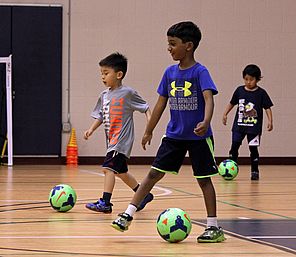 Soccer Sparks
Soccer Sparks offers age-appropriate soccer classes for kids ages 2 to 9 in a low pressure, high skill learning environment. The Soccer Sparks approach utilizes fun and games so that children develop a passion for soccer without the stress of competitive play. Taught by USSF Nationally Certified coach Dragomir Parvanov, Soccer Sparks' "all-ball" training techniques help kids meet their maximum potential while emphasizing fair play and enjoyment of the sport.
FLEMING GYMNASIUM
SAT, JANUARY 15 - FEBRUARY 5 | MARCH 5 - MARCH 26
AGES 2–3 WITH A PARENT / 9–9:30AM
AGES 3–4 / 9:35–10:05AM
AGES 4–5 / 10:10–10:55AM
AGES 6–9 / 11–11:45AM
$50
DRAGOMIR PARVANOV
Program Descriptions:
Class Title: Soccer Sparks - Kickin' with the Parents 2-3 Yrs
Parent and child soccer! By playing fun games, children improve their blossoming balance, coordination, and general motor skills. Aside from learning how to dribble and strike a soccer ball, children and parents also get the opportunity to share those first, unforgettable, goal-scoring adventures together.
Class Title: Soccer Sparks - Kick the Ball! – 3-4 Yrs
Kick the ball! The Soccer Sparks 3-4 year old class is designed to help kids develop their large motor skills and get them running, dribbling, and kicking the ball while having lots of fun. The kids learn the very basics of the game through skill demonstrations and games as they transition from parent to individual participation.
Class Title: Soccer Sparks – Dribble, Kick, Pass! - 4-5 Yrs
Dribble, kick, and pass! The Soccer Sparks 4-5 year old class is designed to spark an early passion for the game in young players. This class will encourage greater retention of foundational soccer skills such as dribbling, passing, and shooting in a positive environment. Our curriculum includes fun and energetic games that teach kids about playing within a group..
Class Title: Youth Soccer Sparks - 6-9 Yrs
Dazzle with your footwork! The Soccer Sparks 6-9 year old class utilizes the "all ball" approach to foster skill improvement and build player confidence. Players will learn to solidify such skills as dribbling, passing, trapping, receiving, juggling, and accurate shooting in a supportive group environment.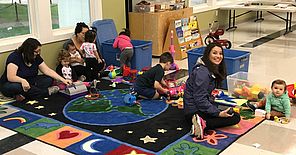 Preschool Playgroup
You're invited to join other caregivers and children for playtime. There will be crafts, storytime, and songs. This drop-in program is free!
Birth-5 years | 75 Maple Street
Tue/Thurs | September 14-May 19
9:30-11 AM
Facilitator: Laura Rasco
This program follows the EWSD school calendar. If there is no school, the playgroup will not meet. This calendar can be found here.
Kindermusik
Kindermusik ® classes provide a playful, supportive environment for children and their caregivers to play together with music- dancing, singing, exploring instruments, and more. Activities designed specifically for each stage of early childhood support infants' and children's development across cognitive, social-emotional, and physical domains while building an understanding of simple musical concepts.
Aspire Building, Maple Street Park
Wed | February 9 - March 9, or April 13 - May 11
9:00-9:45 am | Ages 0-2
10:15-11 am | Ages 2-4
$55
Kindermusik Health and Safety Information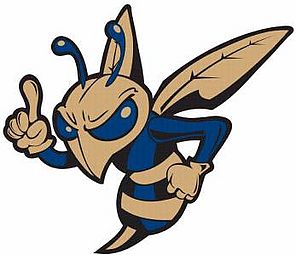 Essex Sting Basketball Club
Essex Sting Basketball Club is a Non-Profit organization that offers competitive basketball opportunities for EWSD students in grades 5-8 (4th graders may try out for the 5th grade team). Sting teams will practice once or twice a week beginning in October and continuing through mid-February. Essex Sting teams compete in the Mini-Metro Basketball League which competes on Sundays (8AM-3PM) against other clubs from the region.
Essex Sting Basketball Club focuses on all aspects of player development in a competitive setting; skill, knowledge, sportsmanship, and teamwork. This is a great opportunity for players that enjoy the game of basketball and want to improve their game.
Essex Sting will be following school rules when in their facilities, which currently includes having all players, parents, and staff masked while indoors regardless of vaccination status.
Tryouts are being offered at the following dates/times. Players MUST register ahead of time at the below link to be eligible to tryout.
Tryout Schedule:
Monday, 9/27 @ ADL 6-7pm for BOYS grades 5-6 or 7:30-8:30pm for BOYS grades 7-8
Tuesday, 9/28 @ EHS 7-8pm for GIRLS grades 4-8
Wednesday, 9/29 @EMS 6-7pm for GIRLS grades 4-6 or 7:30-8:30pm for GIRLS grades 7-8
Thursday, 9/30 @EMS 6-7pm for BOYS grades 5-6 or 7:30-8:30pm for BOYS grades 7-8
Important Documents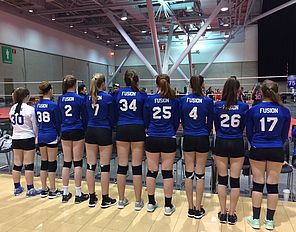 Fusion Volleyball Club
Fusion Volleyball Club is a registered member of New England Regional Volleyball Association. Our goal is to provide a high quality, experience in a safe and respectful environment. We are a dedicated and experienced group of coaches who share the love of coaching.
At Fusion, we pride ourselves on providing a positive and educational experience for the youth we serve. Our goal is for every player to realize their full potential with a sense of pride, confidence and accomplishment. We are dedicated to maintaining a quality staff of coaches and administrators. We all share the same goal; the pursuit of excellence and an unwavering dedication to creating a safe, positive and significant experience for all players.