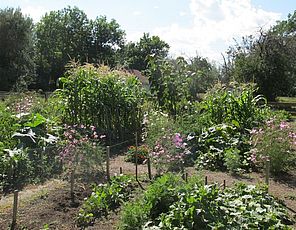 Community Gardens
Community gardens are a wonderful place to grow food and friendships. There are two community gardens in Essex Junction- West Street and Meadow Terrace. For more information on either site, please see below.
Now Accepting New Gardeners!
Each year the plots are first offered to those who had them last year. After that, any open plots are re-assigned based upon a waiting list kept by Essex Junction Recreation & Parks. To be added to the waitlist please contact the office at 802-878-1376 or recreation@ejrp.org. The office is open from 8am-4pm Monday-Friday, but in-person service window hours are from 10-2, Monday-Friday. We will begin working through the waitlist in mid-March.
General Garden Information:
Each site has one or more volunteer Garden Coordinators who help to keep the garden organized and the gardeners informed. They are the main contact for any questions or concerns that may arise. If you are interested in becoming a Site Leader, please contact Kirsten Santor at ksantor@essex.org.
All gardeners have access to on site water.
New gardeners may rent 1 garden plot for their initial year. Returning gardeners may request a maximum of 2 gardens. Returning gardeners will be given their same plot unless they indicate otherwise, or reasonable contact has been attempted with no response.
Cover crops are encouraged and cover crop seed appropriate for spring, summer or fall planting will be provided free of charge.
The gardens are not fenced in, regularly patrolled, or closed in anyway. Please be aware that theft of produce or items can happen.
The following applies to ONLY those with no-till plots:
You may create permanent beds and paths and small structures like trellises. No large permanent structures, like sheds.
You may plant perennial flowers, herbs and bulbs (garlic!), but not woody perennials, brambles or trees
You may begin gardening anytime in the Spring, even before water lines are installed.
Garden Plot Fees:
Resident: $38/plot
Non-Resident: $58/plot
**GARDENS ARE NON-REFUNDABLE AND CANNOT BE RESERVED WITHOUT FULL PAYMENT**
Garden Guidelines:
Show some sign of gardening by May 15 or have contacted a garden coordinator. Unused plots will be reassigned to gardeners on the waiting list. There are no refunds for unused plots.
Exercise good land stewardship. This includes removing all trash and maintaining walkways and borders adjacent to your plot. There will be no intentional planting in walkways- plant one foot in from adjoining gardens. Do not remove sticks or dead trees from the woods to use in your garden. Never leave materials by the shed, regardless of their condition.
Do not leave the water on and unattended. Do not drive over water lines or move them. Turn off the main valve for your section and remove hoses from spigot when leaving. Please check in with a coordinator to ensure the proper procedure. Do not place hoses on mowed areas. Notify your site coordinators or the Essex Junction Recreation & Parks Department (878-1376) immediately of broken pipes, leaky water lines, or other water issues.
Grow only flowers, vegetables, fruits, and herbs. The raising of farm animals or any animals, is not permitted. Growing of any tobacco or marijuana (including hemp) products is not permitted.
Always keep pets under control and out of other gardeners' gardens.
Be a good neighbor, which includes:

Being open, accepting, respectful and inclusive of everyone
Exercising patience, mindfulness and understanding towards others
Participating in productive communication and maintaining a spirit of cooperation with fellow gardeners
Getting to know your fellow gardeners.

Clean up your plot at the end of the season:

Tilled Plots Only: clear all inorganic materials (stakes, strings, trellises, rocks, burlap, fencing, twine, stakes, plastic, etc.) and cut up corn stalks, sunflowers, and anything with woody stems, like broccoli on or before October 17, 2021 in preparation for fall mowing. No materials should be left by the shed, regardless of condition. We encourage you to leave plant and weed material in the garden, spread out, to be tilled under. Do not dump in the woods.
No-Till Plots Only: following tilled plot guidelines if you do not plan on returning the following season, otherwise all material may remain in place.
West Street
The West Street Gardens are located at the State Tree Nursery on West Street in Essex Junction. Sites are open from dawn to dusk. Water is available on site from Mid-May through Mid-September. All plots in rows A-J are mowed in the fall and tilled in the spring. Plots in rows L-S will be tilled in the spring unless they are designated as no-till. Garden plots are 25' x 25'.
Meadow Terrace (Organic Only)
The Meadow Terrace Gardens are located next to the Center for Technology Essex Natural Resources Building. Sites are open from dawn to dusk. Water is available on site from Mid-May through Mid-September. Meadow Terrace has both no-till and tilled (in the spring) plots. Garden plots are 24' x 18'.
Garden Information specific to Meadow Terrace:
Only organic gardening is allowed at Meadow Terrace. Organic gardening produces healthier soils and safer ecosystems. Organic insect controls include Bt (a bacterium), rotenone, pyrethrium, Neem, copper soaps, and various homemade remedies. Please use caution and read instructions before applying any pesticide. Some good sources for organic pest controls include Gardener's Supply Company and gardensalive.co. Organic gardening involves three main principals:
Feed the soil by using compost and cover crops to add organic matter and nutrients. Chemical fertilizers such as MiracleGro are not used in organic gardening.
Apply natural mulches (such as hay or straw) to suppress weeds, reduce water loss, and add organic matter to the soil.
Use natural, botanical, and biological insect controls to avoid harming beneficial organisms and pollinators. Synthetic pesticides are not used in organic gardening, as they can have unwelcome side effects to plants, wildlife, and people.
Exercise good land stewardship. This includes removing all trash and maintaining walkways and borders adjacent to your plot. There will be no intentional planting in walkways- plant one foot in from adjoining gardens. Do not remove sticks or dead trees from the woods to use in your garden. Never leave materials by the shed, regardless of their condition. Landscape fabric, black or colored plastic, and newspaper are not allowed as they are ineffective for weed control in a community garden and difficult to remove after use. Instead, you can use recyclable brown paper to cover your beds.
Please water in the morning or evening and apply water at the base of plants where possible. Keep hoses in good repair. Sprinklers, soaker hoses, underground water systems, and unattended watering are not allowed. You may use hay or straw as mulch to reduce evaporation. You must turn off the main valves when leaving the garden