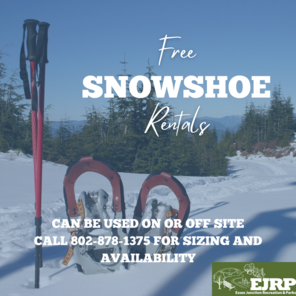 Free Snowshoe Rentals!
EJRP is proud to announce that we are offering FREE SNOW SHOE RENTALS thanks to a grant from the Vermont Governor's Council on Physical Fitness & Sports. Snowshoes make winter more fun by allowing you to walk on snow-covered trails & roads. Snowshoes are available to rent at the recreation office Monday-Friday from 8am-4pm. Snowshoes may be used both on and off the property and our variety of adult and kids sizes allow for everyone in the family to get a pair. We also have trekking poles available.
Give us a call at 802-878-1375 for sizing and availability!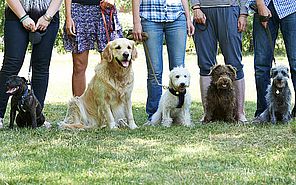 Dog/Puppy Essentials
We're busy people. We've got other priorities. Dog training can feel like One. More. Thing. But, you want a dog you can live with, be proud of, and about which others glowingly remark "What a great dog!" This class shows you how to have a happy, confident, well-behaved dog. It consists of 3 important skills: practical straight-up obedience (don't drag me down the street, come when I call, etc.), life skills (don't jump on my friends, chill out, etc.), and understanding your dog's body language.
18+ | Maple Street Recreation Center
Sat, January 15-February 19 | 10:00-11AM or 11:15-12:15PM
$165
Instructor: Deb Helfrich, Gold Star Dog Training
This class is a prerequisite for the Therapy Dog Academy class.
Therapy Dog Academy
Prerequisite: Permission from the instructor or prior participation in a Gold Star class.
So, your dog wants to be a therapy dog? Well, we've got a course for that! This 6-week course gives dogs and handlers the necessary skills for not only passing the test but also for working successfully as a therapy dog team.
18+ | Maple Street Recreation Center
Sat, January 15-February 19 | 12:45-1:45 PM
$185
Gentle Yoga
This Gentle Yoga series is a slow, gentle yoga that is suited for both beginners who have never done yoga before as well as experienced yogis who would like to move deeper into the postures. We will combine breath and movement to warm up the muscles and calm the mind.
18+ | Maple Street Recreation Center
Mon & Wed, January 17-February 2 | 10:00-11AM
$42
Modern Western Square Dance
If you can walk to music, you can learn to square dance. Join us every Thursday throughout the school year to exercise our bodies and minds through square dancing. All ages and experience levels are welcome. For more information contact Susan Pierce 879-1974, sewpie@ aol.com.
75 Maple Street
Thu, September 9 - May 26 | 6:30-9 PM
Women's Basketball
Join us each Tuesday night for female-only, non-competitive pick-up games for fun and fitness.
Ages 18+ | Essex Middle School
Tue, November 30 - February 8
7-9 PM
$40
Lead by Amanda Dall
Over 30's Pick-Up Hoops
Time to stretch those muscles and get in shape. Join us for pick-up basketball fun, and fitness every Tuesday Night.
Ages 30+ | Albert D. Lawton
Tue, November 30 - February 8
7-9 PM
$40
Lead by Robert Haggerty