Brad Luck, Director, EJRP (DC Chaperone 2015, 2016, 2018, 2019)
Brad is the Director at EJRP, the A-Team boys basketball coach at ADL, and the EHS boys rugby coach. He first visited Washington D.C. while in 8th grade at ADL and has been many times since, including once testifying before the Senate Committee on Labor and Human Resources. Brad enjoys playing basketball, walking his dog Maple, and spending time with his family. He is looking forward to helping students have a positive, educational, and memorable experience on this trip.

Kirsten Santor, Program Director, EJRP (DC Chaperone & trip coordinator 2017, 2018, 2019)
Kirsten is the Program Director at EJRP and has a background in recreation with an emphasis in outdoor recreation. Over the past few years she has planned, organized, and led college students on educational trips to the U.S. Virgin Islands, New York City, Scotland, California, Nevada, and Hawaii. She's excited to visit DC and share in this terrific venture with the students.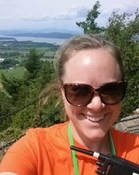 Maureen Gillard, School Age Childcare Director, EJRP (DC Chaperone 2017, 2018, 2019)
Maureen grew up in Colchester and began working as a camp counselor in 2002 at the age of sixteen. She has spent every consecutive summer since working in recreation from the shores of Lake Champlain to the foothills of the Rocky Mountains. Maureen believes strongly that opportunities available to young people outside of school, namely quality after-school and summer programming, can have a vastly positive impact on the ways in which children grow, and learn, and navigate the world around them.

Pat Ivory, Program Director, EJRP (DC Chaperone 2019)
Pat grew up outside of Philadelphia and takes every chance he can get to escape VT to get back to a city (in small doses). Pat often geeks out at each of the DC trips as his passion and experience both studying and later teaching History is unable to be contained when given a platform (or bus microphone) and students who can't escape! He's excited to get back on the road with the 8th graders to help create a trip with memories to last a lifetime.