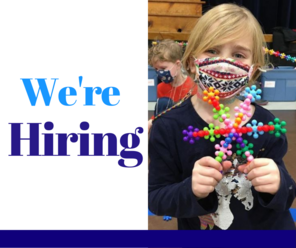 Full or Part-time assistant site coordinators and counselors needed!
Join EJRP's Rec Kids Afterschool Program Staff Today!
Spend your days and evenings laughing, playing, building, and teaching our kids!
We're looking Assistant Site Coordinators ($17.11/hr) and Counselors ($14.00/hr)
Shifts available Monday-Friday
LICENSED CHILDCARE SITE COORDINATORS – ESSEX SCHOOLS
Seeking creative, energetic, caring, and motivated individuals to serve as Site Coordinators for our licensed afterschool programs. These shared positions are day-time student support in an elementary school, paired with the after-school role of coordinating program, leading staff, and communicating with families. Bachelor's degree in related field plus two years of experience. Full-time, year-round position starts at $19.43. Excellent benefits.