Essex Junction Multimodal Station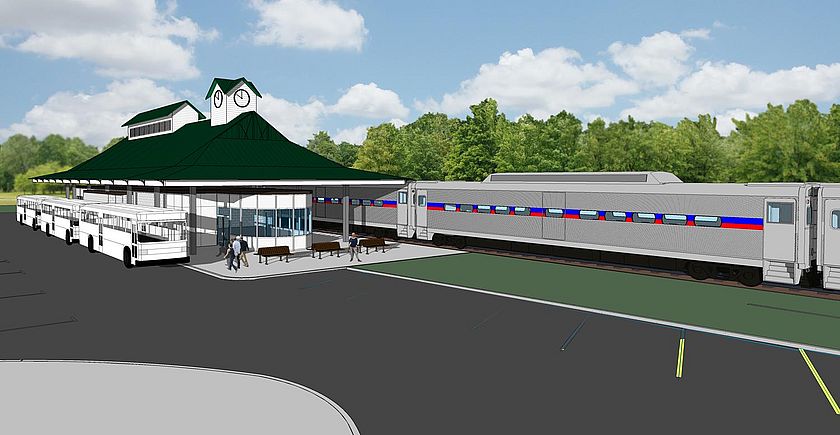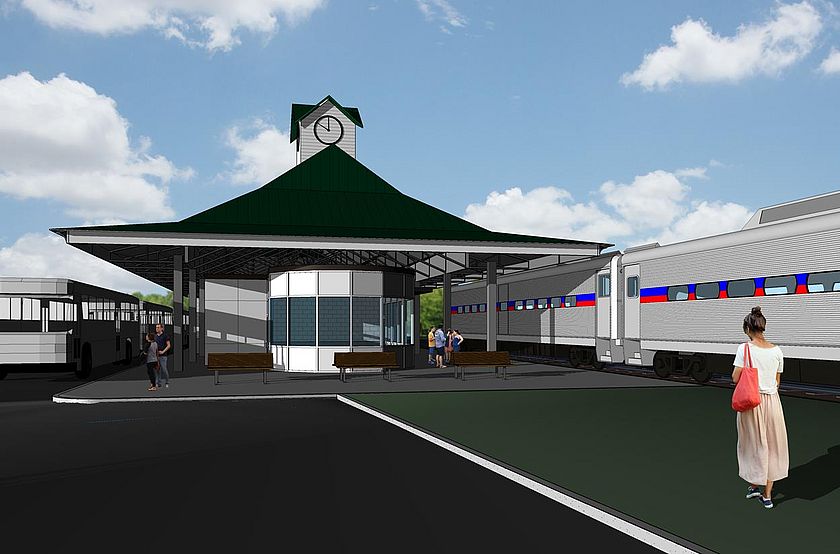 Press
Need for Reconstructed Amtrak Station Highlighted by Essex Junction Trustees as Amtrak Vermonter Returns
Essex Junction, VT - July 12, 2021
With the restoration of Amtrak service, the Essex Junction Trustees are highlighting the need for an expanded and enhanced structure to serve Amtrak passengers at Vermont's busiest train station. To make the point, Village Trustees and friends of passenger rail will gather at the Station on Railroad Avenue in Essex Junction July 19– the first stop of the Vermonter as it heads to New York City - to review the current status of the station, to highlight the 2015 planning initiative that proposed a major redesign and renovation of the existing structure and to see how the project fits into the Village's economic development plans. Several Essex Junction elected officials will be riding the train from St. Albans and be available for interviews upon arrival in Essex Junction. Following brief remarks, representatives of the Village will give a brief tour of development projects around Railroad Avenue and 5 Corners.
On July 19, 2021, AMTRAK's VERMONTER will resume service after a hiatus of over 15 months which resulted from COVID restrictions. When it arrives in Essex Junction as it heads from New York City on its way to St. Albans, VT, passengers will see a station that is badly in need of renovation and repair. These first passengers will see a station that has a postage stamp-sized waiting room, no public bathroom, a platform that is out of compliance with ADA regulations, boarded up windows, and peeling paint. While improvements including a platform upgrade are being planned, there is still a lot of work to do.
The Village Board of Trustees hope the restart of Amtrak Vermonter service signals renewed interest in the Village's proposal to transform the station. In 2015 the Village worked with the Chittenden Regional Planning Commission (CCRPC) to propose a design that would offer an alternative and as a result, have a shovel ready project.
While the outcome is uncertain at this time, in May 2021 Essex Junction filed a request for funding through the Congressionally Direct Spending process. The $3 million request will allow the Village to fulfill the promise of the 2016 study that resulted in the Trustees selected Alternative #4 – a "partial build option that would place a large open-trussed roof canopy sized to cover the flat roofed station building and the train and bus loading areas. The roof is double pitched to recall the rooflines of classic train stations, a design that has historic roots and look of the former station that was located across Central Street, to the north.
Details of the 2016 study and Trustee selection of Alternative #4 can be found at the CCRPC website: (https://www.ccrpcvt.org/our-work/transportation/current-projects/scoping/essex-junction-train-station-access-circulation-study/ ).
Essex Junction is a Village located in northwestern Vermont and is home to about 11,000 residents. The Community is the "only" Essex Junction in the world and home to Vermont's busiest Amtrak Station.